Vacancies at Omnigame
We are ambitious and dedicated. We also offer the most enjoyable office environment in the country. Want to join us?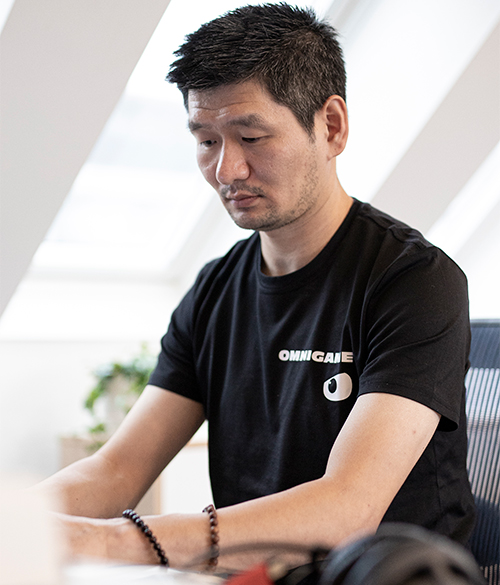 Game Mechanics Developer
Omnigame is looking for a skilled Game Mechanics Specialist to participate in:
● Creation and review of original mathematical models and concepts for slot machines.
● Prototyping and validating mathematical calculations using statistical analysis and computer simulations.
● Working with a diverse team of designers, artists and software developers to build and test concepts from start to finish.
● Create and maintain all documents required for game development and submission to external regulators.
● Ensure QA procedures for games are met in regards to game logic and mathematical model implementation.
● Expand existing and participate in creating future predictive model data visualization.
You will get the opportunity to provide input, optimize work tasks and shape your position.
Game Developer
Omnigame is looking for a skilled Game Developer for our game development team. It is therefore essential that you are an experienced developer with a good understanding of backend related activities.
Since we have colleagues with many different nationalities, it is important that you master both writing and speaking English.
Work tasks:
On a daily basis, you will work with tasks such as:
Programming and developing games
Assist with sprint planning
Execute tasks planned in sprints
You will get the opportunity to provide input, optimize work tasks and shape your position.
Senior Frontend Developer
As we are growing at a rapid pace, we need yet a frontend developer. Your job will be working closely with our frontend developer migrating our site into React/Next.js. As we wish to expand into more countries, we also want to be more test and data driven in our UX.
DevOps Engineer
As a DevOps Engineer, your role is to develop and maintain our CI/CD setups in co-operation with our development teams. Together with the teams, you provide the tools and knowledge to implement and use automation in their software engineering processes.
You are properly curious by nature and love challenges. You strive to deliver quality solutions and challenge status quo. You are also self-motivated and a detail oriented individual. You are for sure a responsible team player.
Systems Developer
At Omnigame ApS, we are currently looking for a Systems Developer to join our great and fun company.
Your role will be to work on the platform and make sure the transition goes smoothly. Our current tech- stack consists of Groovy, Grails, Nginx, and MySQL as the database layer.
Are we a match?
We are always eager to hear from talented and creative people who would like to add new perspectives to our team. Want to join a family of smart minded people that like to have fun?
Don't hesitate, send us an email and tell us why we should play together.